Lingosaur is a Finnish translation agency offering translation services made by humans. To maximize our efficiency and to minimize costs, we operate purely in the Internet. What ever your business is, we want to enable your global communications.
Background
The company was founded in 2007 to offer traditional translation and international business consulting services. After the first couple of years of operation, and one IT specialist later, we focused on developing online translation services. Our aims were to create an efficient and easy solution for our customers to make translation orders over the Internet, and to provide jobs for translators. The outcome was today's Lingosaur, The Online Translation Agency.
Certificates and Co-operation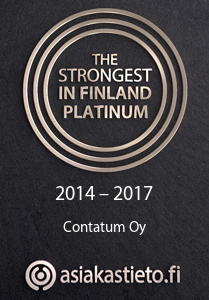 The Strongest in Finland
The Strongest in Finland certificate is a visible proof of your company's creditworthiness, reliability and excellent solvency. The certificate announces to your customers, cooperation partners, credit grantors and other interest groups that cooperation with a certified company is on solid ground.

The companies in the two highest categories of Asiakastieto's 7-step Rating Alfa classification, i.e. approx. 12 % of Finnish companies are entitled to the Strongest in Finland certificate. The requirements to reach these categories are the company's excellent financial key ratios, positive background data and payment behaviour.

Association of Finnish Translation Companies and EUATC
The Association of Finnish Translation Companies (Finnish abbreviation SKTOL) was founded in 1983 and it is an organisation of expert companies, promoting the interests of member companies, users of translation services, translators, and the field at large.

SKTOL is a founding member of the EUATC (European Union of Associations of Translation Companies), the European umbrella organisation in the field. SKTOL requires its members to commit to high-quality performance and service, as well as to follow sound business principles. All the member companies are committed to a common Code of Ethics.
The association's guiding purpose is to monitor and further the development of the translation sector and to improve the quality of translation services, recognition of the sector, and its general operating conditions.

Key Flag
The Key Flag Symbol is meant for enterprises that want to stress the Finnish origin of their products or services and, in that way, the great values attributed to being Finnish. Finnish enterprises operate in an environment that is rapidly getting more and more international. Therefore, ways to prove the origin of products or services become increasingly important.

The Key Flag Symbol can be granted to a service that is produced in Finland. The minimum requirement for products or services is that the degree of domestic origin is over 50 per cent of the total cost price. This calculation takes into account the service-related costs, such as personnel costs, subcontracting, and materials acquisition. In addition, the company must have a significant domestic degree of ownership, management operations in Finland, and Finnish headquarters.